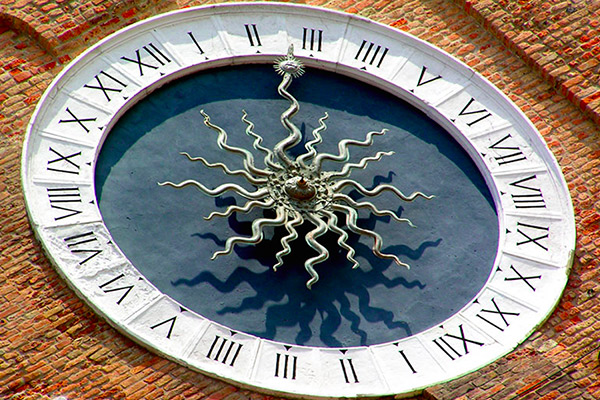 THE OLDEST CLOCK IN THE WORLD
The ancient tower of St Andrew's, who is situated on Corso del Popolo, Chioggia's main street, houses a mechanical clock dating back to 1386.  It is claimed to be the oldest working model of its type in the world, although a similar claim is made of the clock of Salisbury Cathedral. It is reputedly the work of the Dondi family, based on the 'dogs leg' styling of the lower of the 4 metal mounts. On the outside of the tower, reduced in height after the War of Chioggia, the mechanism of the clock offers a decorative element thanks to a sunburst pattern surround in Istrian stone showing 12 roman numerals. At the centre of the face there is a flaming sun from which extents a long ray, which in turn indicates the hour. The medieval clock can be seen at the 5th floor of St. Andrew's tower.
The bell tower of St'Andrew, dating back to the XI-XII century, was built for defence and, over time, it became the main element of the town, housing the clock of the ancient municipal palace. Besides the bell tower there is the homonimous church. The current building is from 1743 and represents the rebuilding of a fifteenth century church, which in turn was built on the remains of an ancient church (c. VIII century) and conserves its original layout. It has a Baroque-style facade and the Baptistery is attributed to Sansovino. The most important work of art is in the sacristy and shows the Crucifixion. The canvas was initially attributed to Palma il Vecchio and then later to Marescalco (Giovanni Buonconsiglio).
(source: Curiosando, www.conchioggiasi.com and wikipedia)