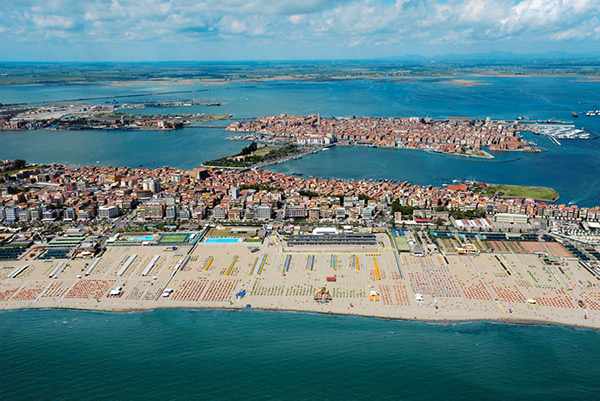 Only ten minutes from our base and you can easily arrive to Sottomarina. A long time ago it was called "Marina Vecia": an area of vegetable gardens and traditional dwellings, today it is a wonderful seaside locality. The beach of Sottomarina is about 10 km long and in some parts it can also be 300 metres deep. It is appreciated by the entire coastline for the quality of its fine sand, characterised by an abundant presence of augite, quartz, silicon and micaceous elements. These features, together with a regular and constant breeze, make it the ideal place for some therapeutic rest and an excellent tan. Its wide and welcoming shore is, without a doubt, the ideal place for long walks or for children to enjoy, or simply relaxing.
If you want to avoid the bustle and traffic and have a bike or you feel like taking a walk, the Lusenzo Lagoon, where our embarkation base is located, is ideal for you. Cycle paths and pedestrian routes allow you indeed to tour the lagoon, starting from Sottomarina and arriving in Chioggia or vice versa. The area is particularly pleasant: the landscape is fascinating, the benches are surrounded by greenery and the view across the lagoon is beautiful.
You can continue walking on foot or by bike to the Sottomarina dam to see the remains of the ancient "Murazzi" (embankments). They are essential for people to understand which point the sea level once reached.